TransTrack Enterprise Asset Management (EAM)
TransTrack EAM is a fleet maintenance, parts inventory, and purchasing software package designed and developed exclusively for transit systems. It is the most effective and cost-effective fleet maintenance software solution for this market. Data entry, information review, and reporting are all customized to accommodate the way transit properties operate.
Fleet Maintenance
⬢ Parts Inventory: Parts/components entry and tracking by vehicle.
⬢ Work Order Management: Entry and tracking labor entries by clock or duration of effort.
⬢ Team Notes: Generous notes fields on all key entry points.
⬢ Facility Condition Assessment: Entry and tracking of overall asset condition and useful life.
⬢ Outside Labor Management: Tracking parts, labor, and general charges.
⬢ Automated Fleet Scheduling: Automate preventive maintenance scheduling and schedule independent non-preventive maintenance activity.
⬢ Road Call Management: Entry, tracking, reporting, and generation of work orders for follow-up work.
⬢ Operator Defect Reporting: Report entry, scheduling, and generation of work orders with tracking by vehicle, operator, and issue.
⬢ Warranty Management: Tracking on vehicles and parts/components, display all warranties applicable to fleet vehicle or installed components. Historical review of all warranty work.
⬢ Fuel Management: Fuel and mileage entry, tracking, and reporting. Interface with automated fueling systems or manual entry.
⬢ Financial Reporting: Comprehensive fleet maintenance cost tracking and reporting.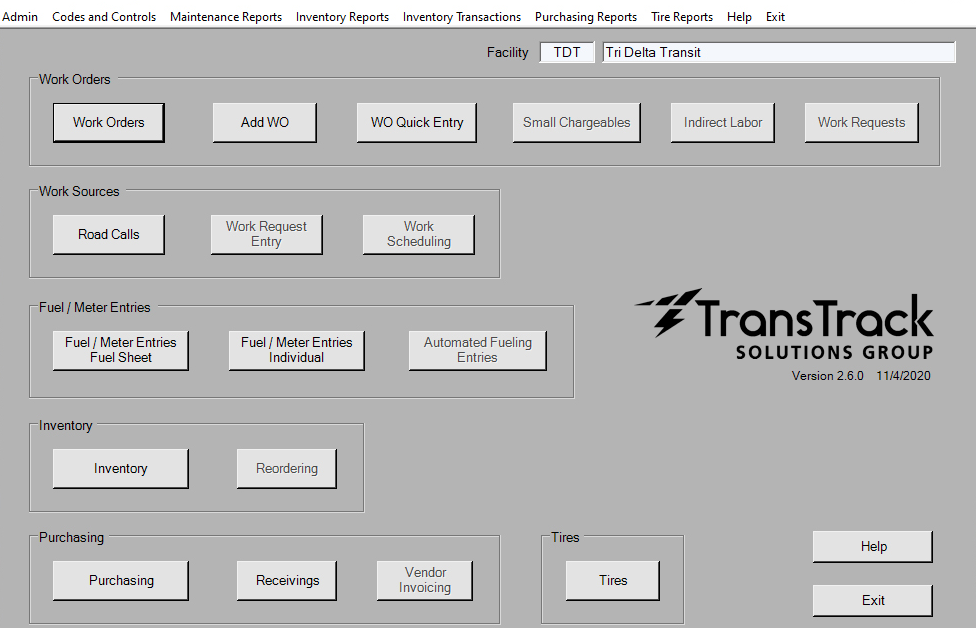 Using TransTrack EAM, you can monitor and maintain your transit fleet. Simple and easy to follow entry protocols for vehicles, vendors, parts, and fluids management.
Parts Inventory & Purchasing
⬢ Full Stock Inventory: Item number, description, and storage location.
⬢ Parts Management: Group classifications, reordering history, valuation, and physical inventory.
⬢ Parts Ordering: Reorder points for reorder reporting and alerts for immediate notification.
⬢ Financial Review: FIFO, LIFO, or average cost costing.
⬢ Work Order Parts Management: Issue documentation and source and cost on work order, includes restocking tracking.
⬢ Parts Delivery: Track receiving's and adjustments, item increment on purchase order, item increment on non-PO receiving, and quantity and cost adjustments for parts inventory.
⬢ Purchase Order Management: Comprehensive PO entry, tracking, and reporting for maintenance and non-maintenance activity, inventory stock items, non-stock items, or services.
Time Management
⬢ Tire Ownership Management: Including special inventory, tracking, and reporting, and costs for purchase, recapping, or repair are charged to vehicles.
⬢ Tire Lease Management: Automated Lease reporting and costs charged directly to fleet vehicles by lease rates.