TransTrack Facilities (EAM)
TransTrack Facilities EAM is much like our Fleet EAM, only specifically designed for Transit Facilities. Facility maintenance, parts inventory, and purchasing management for federal and state funded facilities (shops, administrative buildings, transfer stations, train stations, and bus stops). Data entry, information review, and reporting are all customized to accommodate the way transit properties operate.
Facilities Maintenance
⬢ Parts Inventory: Parts/components entry and tracking by facility location.
⬢ Work Order Management: Entry and tracking labor entries by clock or duration of effort.
⬢ Team Notes: Generous notes fields on all key entry points.
⬢ Outside Labor Management: tracking parts, labor, and general charges.
⬢ Defect Reporting: Report entry, scheduling, and generation of work orders with tracking by issue.
⬢ Warranty Management: Tracking on facility parts/components, display all applicable warranties. Historical review of all warranty work.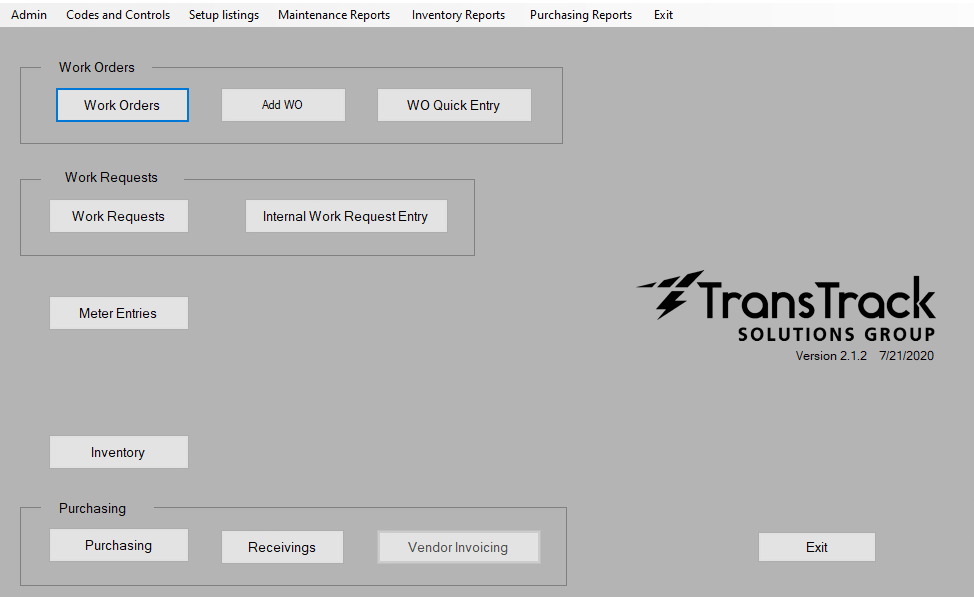 A comprehensive enterprise asset management software designed specifically for public transit agencies.
Parts Inventory & Purchasing
⬢ Full Stock Inventory: Item number, description, and storage location.
⬢ Management: Group classifications, reordering history, valuation, and physical inventory.
⬢ Parts Ordering: Reorder points for reorder reporting and alerts for immediate notification.
⬢ Financial Review: FIFO, LIFO, or average cost costing.
⬢ Work Order Parts Management: Issue documentation and source and cost on work order, includes restocking tracking.
⬢ Parts Delivery: Track receiving's and adjustments, item increment on purchase order, item increment on non-PO receiving, and quantity and cost adjustments for parts inventory.
⬢ Purchase Order Management: Comprehensive PO entry, tracking, and reporting for maintenance and non-maintenance activity, inventory stock items, non-stock items, or services.